Get Help from Algebra Tutor servicing area of Armonk, NY and Westchester County New York area
Students who aren't exactly "math people" but are doing well in algebra probably have an algebra tutor helping them get through rigorous linear equations, mathematical concepts in Armonk, NY. Why should you as the parent be any different from others? Others parents in Armonk NY are taking advantage of Tutoring Services, LLC company to help them find reliable math experts to help their children succeed in math. Don't you want to increase chances of your son or daughter doing better in school? Or perhaps you are an adult needing basic math help or Advanced Algebra help? If so we got you covered!
With a private Algebra Math instructor to offer remediation, concept reviews, test prep, and homework help, even "non-math" people can learn algebra, which can be invaluable to them throughout their academic lives. With a firm foundation in algebra, they'll perform better than they would otherwise on math portions of standardized tests like the SAT, GRE, and Praxis I; they'll be prepared for their next math course, which most likely will require a working knowledge of algebra; and they'll be able to pursue the college degree of their choice, even if it requires math-intensive courses. If you too would like to have a firm foundation in algebra, let us help you find an algebra tutor who can visit your son or daughter directly in your home and Tutoring Services, LLC can help you match make.
Topics our Math Algebra Tutors can help students cover
What can our company do for you and how can it help you or your son or daughter residing in Armonk, Mount Kisco, Purchase, Bedford, Tarrytown Westchester or Fairfield County do better in Algebra subject?
Tutoring Services, LLC can connect parents of Westchester County NY, Armonk, Purchase, Mount Kisco, Bedford, Tarrytown, Sleepy Hollow and Farifield County area with reliable math algebra tutors or nearby areas, whether your son is in college or high school or middle school our Algebra Mathematics experts can help. For parents with Middle school kids who're taking their first algebra class can also greatly benefit from the assistance of a private lessons in Pre-algebra, Honors Algebra, Algebra I, Algebra II—whatever course you're taking, you'll be able to find an algebra subject matter expert to help your son or daughter better understand rigorous subjects of mathematics.. Choose private instruction within your own home or some other convenient location, or select an online algebra math tutor.
We can help variety of student audience, such as
Adults,
College Students,
k-12 Elementary, Middle, High School Kids
Home School Kids
Math Educators trying to become certified teachers for the state of New York!
Private School or Public School Kids
I am not conviced, if i should contact Tutoring Services, LLC agency to help me find algebra math tutor why not do it myself with out an agency? Good question click link below to find out why that is.
Top 5 Reasons for Parents to Use our Algebra Tutoring Services in Westchester NY as oppose to searching for Tutor on Your Own!
Study Help outside of local tutoring expertise Prepare for the test with the help of the study guides in addition to tutoring or alternatively and save money
Our tutors can help also adults prepare for Algebra studies. Alternatively adults and college level students or high school level students can prepare for algebra related course, exam or subject on their own without the help of the tutor especially if you are on the budget, here are the best algebra study guides which we recommend to use in addition to algebra tutoring or instead of algebra tutoring.
With an algebra tutor servicing area of Armonk, NY, students will be able to review mathematical concepts that their teacher covers in class with the help of a local algebra math tutor.. Unlike your classroom instructor, your algebra mathematics instructor servicing Westchester County NY, can teach specifically to student's needs, going at the pace that's right for you, answering your questions, and working with you until you truly understand. An algebra tutor in Armonk, NY, can also review student's homework, helping students correct problems in which they have errors and show them how to do homework the right way. That's a great way to learn! Not only will students earn higher scores on their math homework, but students will be able to clear up any misunderstandings that they may have and identify (and remediate) the errors that they tend to repeat. As countless other students know, you don't have to be a math person to do well in algebra as long as you are explained topics well by qualified individual.
To set up your first appointment with an algebra tutor servicing area Armonk, NY or get online matht tutor, contact us by email through This email address is being protected from spambots. You need JavaScript enabled to view it. or browse for your math tutor ArmonkTutors.com. Our company is a great agency that specializes in finding algebra home teachers in Westchester County area area for face-to-face as well as online algebra private instruction.
Affordable Algebra Study Guides | Group Local Tutoring, or Online Algebra Math Tutoring for Westchester County Residents!

Have you considered having your child tutored in group? Group prices are much more affordable then one on one math algebra private tutoring. We have educators who can offer group teaching and one on one teaching services in algebra math subject. However, private math algebra tutoring is better than self-study, and it's more effective than a study group too. Our mathematics Algebra experts servicing Westchester County NY and Fairfield County CT know this subject well and have the experience teaching algebra other students.
Best of all, student's math tutoring sessions will focus on student's learning needs, not those of an entire classroom, and you'll be able to learn at the pace that's right for you. Whether you're struggling in your school class or trying to review challenging exams like the PSAT, the SAT, the GRE, or the Praxis I math test that require algebra skills, you'll better meet the challenge by contacting us and help you hand pick your home or online or group algebra tutor in any of the following cities of Scarsdale, Armonk, Purchase, White Plains, Tarrytown, Bedford, Poundridge, Mount Kisco. We also offer online algebra mathematics tutoring for Armonk NY parents on the budget who can not afford local algebra home instructor. To find out more about our online mathematics and home algebra tutoring options and information for Westchester County NY parents click this image link below.
We have the best online Algebra math tools for more effective Algebra Learning

Request a demo today!
How to decide if Algebra Tutoring Services company is the right fit for your child.
If company is reliable it should be able to help parents answer the following questions, if they can answer them than the company is reliable. If they can not provide answers to these questions, then reliability of the company should be questioned.

1. Can I afford a tutor?
2. Can I save money on tutor?
3. What other options are available if I can't afford local algebra tutor in Armonk NY?
4. Can I meet Algebra Math tutor face to face online before having him/her arrive to my home?
5. Can I pre-view tutor somehow before I meet him face to face before he/she shows up at my home?
6. How can tutor provide math tutoring?
7. What tools does tutor have for math tutoring?
8. Can I take pic of math homework problem and show it to tutor? Is there easy way to do it?
9. How can I write math symbols into computer easy naturally as naturally as possible?
10. Which algebra math tutor is available in Armonk New York Area or nearby?
11. Why is the tutor who available in my area better then another tutor?
12. Is tutor pre-screened by agency for back ground check real time interview, references verification, personality test?
Preparing for Algebra CLEP exam? Trying to save money on College Credits?

Armonk NY Parents did you know that there is such thing called Algebra CLEP exam and it's designed specifically to test subject knowledge expertise of student, if student passes it then student does not need to take college course. Many universities accept CLEP for college credits! This means that while your son or daughter is getting tutored in Armonk New York, you also taking advantage of simultaneous value of the fact that your son or daughter is also preparing for Algebra CLEP exam!. Resulting in higher saving on college loans for parents like you! We wanted to share this with Westchester County residents. Check our our sister site for Algebra Math CLEP exam test help. It shows variety of methods to prepare for this exam.
Need Help in other Math subjects? We have Study Guides at k-12 grade levels
We have variety of Mathematics Subjects Study Guides, not just in Algebra but other Math subjects.
Elementary Level Pre-Algebra and Algebra Interactive Video Course, great alternative to local Tutoring in NY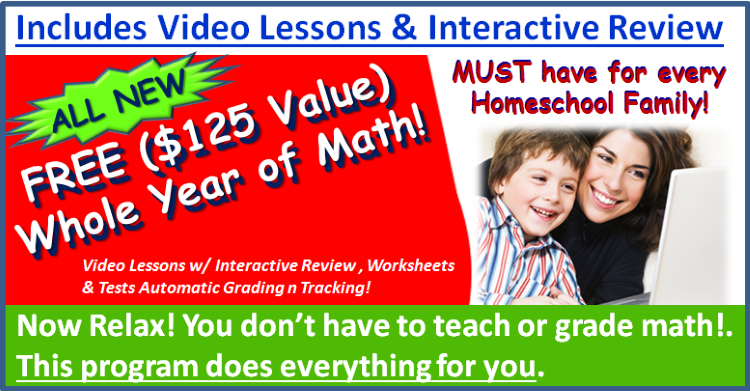 Don't have money for a local algebra tutor to visit your son or daughter in Armonk NY? Need help in Alegbra, Pre Algebra math? Here is what we recommend to Westchester County and Fairfield County parents for their home school kids in who simply need help algebra subject, or any kids looking for algebra help.. This program is very cool and very affordable that beats local and one on one tutoring prices by far! Hence if budget is an issue and you simply want to have your kids jump onto a computer and study math in a nice interactive way then this is the program for you. Note for more reasons why algebra math interactive video course is amazing for Westchester County Parents visit this link.
Test Prep Help for Mathematics Educators Trying to Become Certified Teachers in the State of CT or NY Westchester and Fairfield County
We help Educators and Teachers get jobs and not only help teachers get jobs, but also help teachers prepare for their teaching career, by preparing them for the state teaching certification tests. We have study guides in the form of flash cards, exam secrets for various exams including but not limited to Praxis 1 and 2, NYSTCE, MTEL, CSET, FTCE, MTTC and other major tests which states require. Our study help material can help future teachers/educators get passing score on their test.
Simply browse through our collection of math test prep study guides and buy your teaching certification exam prep material to help you pass your test or contact us to help you locate your teaching certification resource. Alternatively if math study guides does not help you, then consider contacting us to match make you with one of our mathematics experts online or in person to help you prepare for your teaching certification test. Teachers if you are interested in preparing for any other teaching certification exam please visit StudyGuide.NET or for CT based teachers taking Praxis 2 exam, please visit Praxis2.org
Tutoring Services, LLC is going GREEN helping Armonk NY students save money on College Algebra book expenses!
Algebra Math College Textbooks for Westchester County Colleges or University Students at Affordable Price!
With a college algebra textbook you can review aspects of Mathematics course that are hardest for you to grasp, from linear equations to polynomials, from basic to advance linear algebra. But what good will the math algebra book does for you if it's not affordable enough for you to buy one? We believe education should be affordable, which is why we created UsedCollegeBooks.NET website to help college students buy and sell their algebra textbook directly to or from each other at the fraction of the university or college bookstore expenses, avoiding shipping fees and middle man all together and helping environment stay green by reusing old Algebra textbooks. The way it works you can simply register on the site free of charge and post textbook you would like to sell in either of the following universities in Westchester County NY. Students will find your book and contact you directly, that way you can save money on expensive shipping fees or bookstore fees and help the world stay green by reusing your textbooks. Tutoring Services, LLC is all about helping save the environment.
Other kewl Algebra Math Links!
Algebra Homework help and Resource
If you are confused about any of these Algebra Edu options presented to you, we encourage you to pick up your phone and contact us to discuss your educational needs! Or send us email through This email address is being protected from spambots. You need JavaScript enabled to view it.

We Offer Tutoring Also In Nearby Cities: